Are you in search of an easy-to-follow guide on how to start a blog?

Look no further! This step-by-step guide will help you create a blog in just 30 minutes, even if you have minimal computer skills. By the end of this tutorial, you'll have a beautiful blog ready to share with the world.

This guide is designed especially for beginners, and I'll walk you through each step with the help of pictures and videos to ensure clarity. If you encounter any difficulties or have questions along the way, make sure to leave the comment, and I'll do my best to assist you.


Are you excited to get started?


How To Start A Blog for Beginners
I understand that beginning a blog can seem daunting, especially if you're new to it. This free guide is tailored to beginners and will teach you how to become a blogger, even if you have very basic computer skills. Whether you're 9 or 99 years old, you can create your own blog in just 30 minutes.

So, how exactly do you start a blog?


Discover the straightforward process of launching your own blog in approximately 30 minutes by following these six easy steps:


Choose a Blog Name: Start by selecting a name for your blog that reflects its content and purpose.

Get Your Blog Online: Register your blog's domain name and secure a hosting service to make it accessible on the internet.

Customize Your Blog: Personalize your blog's appearance by selecting a free template and making custom adjustments.

Craft & Publish Your First Post: Dive into the exciting world of blogging by sharing your thoughts and ideas with your audience.

Promote Your Blog: Attract more readers by employing effective marketing strategies to boost your blog's visibility.
Monetize Your Blog: Explore various options for generating income from your blog and choose the one that suits your goals.
Embark on your blogging journey with these simple steps and start sharing your passion with the world.


Should You Go For Starting A Blog?



Are you considering starting a blog? There's a common misconception that successful bloggers must be exceptional writers, but this couldn't be further from the truth. Blog readers often seek a personal and conversational perspective, so many bloggers adopt an informal style.

What's more, successful bloggers frequently cover a wide range of topics on their blogs, and they don't need to be experts in each subject. For instance, cooking blog visitors aren't looking for a scientific dissertation on food; they want to hear about real cooking experiences, including mistakes.

To achieve success as a blogger, there's only one essential requirement: a genuine passion for your chosen topic. Blogging is fundamentally about sharing your knowledge and insights with the world. When you write about subjects that genuinely interest you, your passion will shine through, captivating and engaging your audience.

Why choose blogging? There are several compelling reasons:


Share Your Story: Blogging gives you a platform to express yourself and share your experiences with the world. It's like having a public diary where friends, family, and others can be part of your journey.


Make Money: Blogging can be a profitable venture when done right. While the top bloggers earn substantial incomes, even part-time bloggers can generate a decent profit. The beauty of blogging is that it can create a stream of passive income. You invest a few hours a week in writing content, and it continues to generate income long after it's published. Detailed information on how to monetize your blog will be discussed later in this guide.


Gain Recognition: Blogging can bring you or your business into the spotlight. While you may not have paparazzi following you, a successful blog can establish your authority in your field. Many bloggers are recognized as experts solely because of their blogs, and some have even secured book and movie deals based on their online presence.


Build a Community: Blogging is inherently interactive. You write a post, and people comment on it. This interaction allows you to connect with like-minded individuals who share your interests. Blogging provides a platform to share your knowledge based on your experiences and learn from your readers as well.



What exactly is a blog?
Simply put, it's a type of website primarily focused on written content, commonly referred to as blog posts. While news and celebrity blogs are often in the spotlight, as you'll discover in this guide, you can create a successful blog on virtually any topic you can imagine.

Bloggers typically write from a personal perspective, enabling them to connect directly with their readers. Most blogs also include a "comments" section where visitors can engage in conversations with the blogger. This direct interaction is one of the primary advantages of starting a blog. It fosters a sense of connection and allows you to exchange ideas with like-minded individuals. Moreover, it helps you build trust and loyalty among your readers, which we'll explore further in this guide as it relates to monetization.

The exciting part is that the internet is experiencing rapid growth, with more people online than ever before. This surge in online presence means a larger potential audience for your blog. In essence, if you're contemplating starting a blog, there's no better time than the present.


Let's kickstart your blog!
Step 1: Choose a Blog Name
If you're unsure about your blog's name or the topic you want to blog about, you can move on to the next section.

However, if you already have a name in mind for your blog, you can check if it's available:

Check the availability of your blog name: Enter your blog name & extension here…

Please note: Your domain name can't contain spaces or punctuation other than dashes.

If you discover that your desired name is already taken, you have a few options:
Try a different domain extension. If the .com version is registered, you might still secure the .net or .org version of the name.


Incorporate small words like "a," "my," "best," or "the." For instance, instead of fourpercenthub.com, you could use Thefourpercenthub.com.


Use dashes between words, like zain-fin.com.


Let's find the perfect name for your blog!

How to Choose a Blog Topic & Name
If you don't already have a name in mind, the first step is selecting your blog topic.
If you're uncertain about what to blog about, there are several ways to discover a suitable blog topic:


Life Experiences: Everyone gains valuable lessons through life experiences. Sharing this knowledge can be incredibly beneficial to others facing similar situations. Consider the life experiences you've had, whether related to your family (e.g., a blog about being a stay-at-home mom), work (a blog about client interactions), or other significant life events (e.g., coping with illness, divorce, or celebrating milestones like weddings or childbirth).


Personal Blog: A personal blog is all about you. It covers various topics, from your daily activities to random thoughts and reflections. It offers a platform to share your thoughts and experiences without restricting yourself to a single subject.



Hobbies & Passions: Your hobbies and passions provide excellent starting points. Whether it's cooking, travel, fashion, sports, or niche interests, there's an audience for virtually any topic. Even blogs about less common hobbies can thrive because your potential audience spans the entire online world.


If you are still not sure about your niche ask yourself these questions.
What's that one thing you absolutely love chatting about with everyone? You know, the topic that turns you into a chatterbox without warning? Personally, I can't keep quiet when it comes to money, personal finance, and, of course, blogging! 😄


Now, let's dive a bit deeper. What are your standout strengths, skills, and those interests that light a fire in your belly? They might not be your superpowers just yet, but what gets you excited and talking non-stop?


But here's the real million-dollar question: What keeps you motivated to dive deeper and grow within that niche?


And here's the clincher—would you talk and write about it even if you didn't earn a dime? If your answer is a resounding "yes," then you've stumbled upon something truly amazing!



Exciting Blog Topics
You've got a world of exciting blog topics to explore! Check out these examples:
Entrepreneurship and Business
Personal Finance and Money
Food
Healthy Eating
Real Estate
Parenting and Mommy Blogs
Career and Personal Development
Skin-care
General Beauty
Makeup
Fashion and General Lifestyle
Technology and Gadget Reviews
Crafts and DIY Projects
Home Renovations
Frugal Living
Travel
Health and Fitness
See? The options are virtually limitless, and you can blog about almost anything under the sun!

The golden rule here is to select a blog topic that truly lights your fire. But don't forget the reader! You've got to keep their interests at heart by offering solutions to their problems. That brings us to the next step: figuring out what to write about on your blog.


Once you've settled on a topic, it's time to choose your blog name, also known as your domain name.
A good blog name should be descriptive, allowing potential visitors to understand your blog's focus just from the name itself.
If your blog centers on a specific topic, consider incorporating relevant keywords into your domain name. Don't fixate on a single word; variations like "food," "recipes," and "meals" can convey your blog's cooking theme without explicitly using the word "cooking."


For those planning a personal blog covering various topics, consider using your name or a variation of it, as your blog is an extension of yourself. For example, I own the blog fourpercenthub.com. If your name is already taken, you can include your middle name or initial, such as "zainblog" or "Blogging With Zain."


Once you've brainstormed name ideas, you'll need to choose a domain extension. While .com is the most popular choice, .net or .org can work just as effectively. Keep in mind that for blog domains, spaces between words are not allowed. So, "Blogging With Zain" becomes bloggingwithszain.com.


I get it; many folks tend to overthink this part because they're chasing after the elusive "perfect" name. But let me spill the beans—there's no such thing as THE perfect name. Relax!


However, it's a good idea to sprinkle in some keywords that can help folks find you more easily.
But hold on—don't go overboard with this step. Let me be crystal clear: your blog's name won't make or break your success. So, take a deep breath and let's move on!


Generate 5-10 Initial Blog Post Ideas
Just Find A Problem And Build A Site Around It

The key to creating a successful and profitable blog is to begin by identifying a problem you're passionate about solving. Think about the issues you're currently facing or anticipate encountering in the future.


These problems can span various areas of life, such as relationships, online money-making, college, career, family, and more. Once you've brainstormed some problems, compile a list of blogs that are already addressing these issues. For example, if you're interested in helping people lose belly fat, look for blogs covering this topic.

Next, delve into how these blogs are attracting traffic, especially from search engines like Google. You can explore their "popular blog posts" or employ tools like Semrush to uncover the keywords driving their traffic. Repeat this process with other blogs in different niches.


By the end of this exercise, you'll have a treasure trove of topic ideas and keywords to kickstart your brand-new blog. And here's the exciting part—you'll be launching a blog that's dedicated to solving a specific problem! So, get ready to make a positive impact.


Your blog posts should always aim to deliver value, whether by solving a problem or offering entertainment.
You don't have to reinvent the wheel.
You might think that writing about common problems is overdone and there's no point in creating such content. But that's far from the truth—these topics are popular for a reason.


Why? Because a significant number of people are actively searching for solutions, and guess what? You bring your own unique voice and experiences to the table, which adds tremendous value. Believe me, there's an audience out there eager to hear from you!


Some examples of problem-solving blog posts can be as straightforward as:


"Boosting Your Productivity: 10 Proven Techniques for Work and Life"
"10 Ways to Achieve a Natural Beauty Look with Minimal Makeup"
"Mastering the Art of Time Management: Regain Control of Your Day"
"A Comprehensive Guide to Debt-Free Living: Start Today!"
"25 Ingenious Kitchen Organization Ideas"
"Unlocking the Secrets to Stress-Free Morning Routines"
"The Ultimate Guide to Building Stronger Relationships"
"Healthy Eating Made Easy: Quick and Nutritious Meal Prep Ideas"
"9 Effective Calorie-Burning Exercises for Women"
"Crafting the Perfect 5-Day New York City Trip Itinerary"
"25 Money-Saving Tips Without Extreme Frugality"
"From Chaos to Order: Declutter Your Home and Transform Your Life"
"How to Tackle Bathroom Clutter and Get Organized"
"Mastering the No-Makeup Makeup Look: A Step-by-Step Guide"
So, don't underestimate the power of addressing common problems—your unique perspective and insights will make your blog posts valuable and appealing to your audience.



Step 2: Get Your Blog Online (Web Hosting)

The next crucial step in launching your blog is taking it online, and that's where a web hosting company comes into play. During this phase, you'll be choosing both the blogging platform and the web hosting plan to make your blog accessible on the internet.


But what exactly is web hosting?
Think of it as your blog's home on the web. To ensure your website is visible to others on the internet, you need a hosting service. This service stores all your website files securely and ensures that when someone clicks a link or enters your URL, they can access your blog.


Now, you might wonder about the cost of web hosting. The good news is that web hosting is quite affordable, typically around $5 per month. This cost is a worthwhile investment, especially when you choose a top-tier hosting provider like Bluehost or Hostinger.
Speaking of hosting providers, there are several excellent options available. However, for new bloggers, I highly recommend to pick one out of these two. Either Hostinger or Bluehost because both excel in all the essential areas. Look for a hosting company with a solid track record that prioritizes speed, features, security, and support. Any hosting service that meets these criteria is a great choice for starting your blog. My all sites are hosted with Hostinger and I am more than happy with it.
Read these articles to take the right decision:
1. 7 Genuine Reasons Why Hostinger Is The Best Choice For Beginners And Pro Alike?
2. Hostinger vs Bluehost: Which One is Better For Your Needs?


Step 3: Design Your Blog with a Free WordPress Theme
Now that we've successfully navigated the essential setup phase of launching your blog, it's time to have some more enjoyable moments. However, if this is your first experience with blog design, you might encounter a bit of friction, but don't worry; we won't delve too deep into the technical aspects.
If your goal is to create a blog and generate income as a blogger, WordPress is the ultimate choice for your blogging platform. Let's delve into some fundamental terminology to help you understand why WordPress (a Content Management System or CMS) is the ideal platform for your blog.


what exactly is a Content Management System (CMS)?
A CMS is the platform where you'll write, design, and publish your blog posts. A good CMS, like WordPress, offers user-friendliness, content organization, image and video uploads, and control over your blog's appearance through themes or custom design elements. WordPress is the CMS you've probably already heard of.


So, what is WordPress?
WordPress reigns as the world's most popular CMS, with millions of bloggers, myself included, using it daily. Remarkably, more than 60% of all blogs run on this CMS, including renowned websites like Forbes, New York Observer, TED, Thought Catalog, TechCrunch, NBC, and many others.


Should I opt for WordPress as my blogging platform (and is WordPress free)?
When it comes to choosing a Content Management System (CMS) for your blog, you have several options to explore, including Wix, Squarespace, Tumblr, Blogger, Medium, or Ghost. However, I strongly recommend the path of setting up a self-hosted WordPress blog, especially if you intend to build a blog with long-term sustainability and the goal of generating income.


With WordPress, you can indeed initiate a blog for free, but you'll need a web hosting plan to make your blog live. It's essentially the only choice worth considering if you plan on monetizing your blog in any way.



Can I go for creating a blog with Wix instead?
While I am a staunch advocate for using self-hosted WordPress when starting a blog, especially if your aim is to maximize your potential for long-term blogging success, you can still opt for a CMS platform like Wix to create your blog. However, it's important to bear in mind that choosing Wix means you won't have access to the world's most versatile and functional CMS, which WordPress offers.


The flexibility provided by WordPress is immensely valuable in creating a blog that offers an exceptional experience to your future readers while providing you with abundant opportunities to monetize your content.


If you do decide on Wix (or even Squarespace, Tumblr, or Ghost), be aware that your blog's customization and monetization options will be significantly limited compared to the vast array of choices available with a self-hosted WordPress blog, where you have complete control over every aspect. This isn't to say that creating a blog and making money with Wix is impossible; it just means you won't be maximizing your potential opportunities.


What is meant by a blogging platform?
A blogging platform, also known as a blog platform, is a software tool that enables you to publish your content online. Your content is then shared with the world through your blog promotion efforts, and anyone with internet access can view what you've published on your site.


In the past, blogging platforms and website builders were distinct entities. Today, many website builders incorporate a blog function, allowing you to create both a website and a functional blog for your visitors. WordPress is a prime example, functioning as one of the leading blogging platforms and a dynamic website builder, which I also use on my blog.


Throughout my decade-long blogging journey, I've consistently used WordPress, and I couldn't be happier with the level of flexibility, control, and long-term growth potential it has provided. However, it's essential to note that blogging is hard work.
Now, one thing to be cautious of is that WordPress comes in two distinct platforms: WordPress.com and WordPress.org. Despite their similar names, there are significant differences between the two.



WordPress.com:
Offers free usage, but with significant restrictions.
Doesn't allow you to select a custom domain name (i.e., yoursite.wordpress.com).
Provides very limited monetization options, prohibiting the sale of your own ads.
Does not permit the installation of plugins (such as those for email capture).
Offers limited blogging theme support, leaving you with basic design options.
Requires payment to remove WordPress branding and obtain your custom domain like yoursite.com.
Offers limited SEO (Search Engine Optimization) and analytics capabilities.
WordPress.org:


Allows complete customization of your blog's design using WordPress themes, with unlimited plugin options and no branding.
Provides the freedom to use your custom domain name for your blog (e.g., ryrob.com).
Grants you full control over your monetization strategies.
Offers robust SEO features through powerful plugins, making your site more discoverable.
Enables you to start or add an eCommerce store or membership site to your blog.
Requires a small monthly fee (typically included in your blog hosting plan) and often provides a free domain name during sign-up with most hosting platforms.
Ultimately, the choice is yours, but if you want to fully leverage your blog, nurture its growth, and eventually earn income as a blogger, WordPress.org is the recommended route (as outlined in this guide). It serves as the preferred Content Management System (CMS) that quietly powers your blog from behind the scenes.


How to Install WordPress: The Quickest and Easiest Methods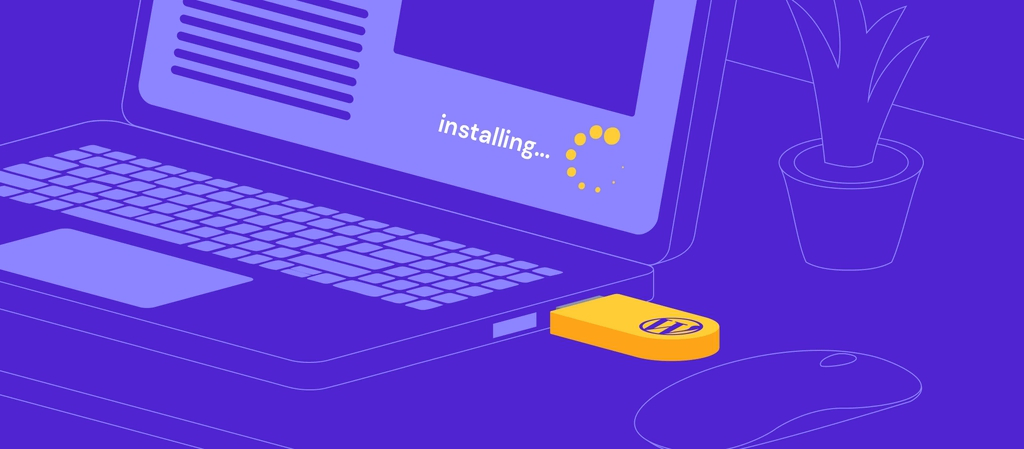 WordPress is a widely recognized, free, and open-source content management system (CMS) celebrated for its flexibility and user-friendly nature. When it comes to learning how to install WordPress, you have various options at your disposal. You can utilize an installer provided by a website hosting service or opt for manual installation with the assistance of an FTP client.


Important! Remember – to install WordPress, you need to have a web hosting service and a domain name.


How to Install WordPress With Auto Installer


To expedite the WordPress installation process, seek out a web hosting provider that offers installation services. Several hosting providers, such as Hostinger, provide a fast and straightforward installation method through an Auto Installer.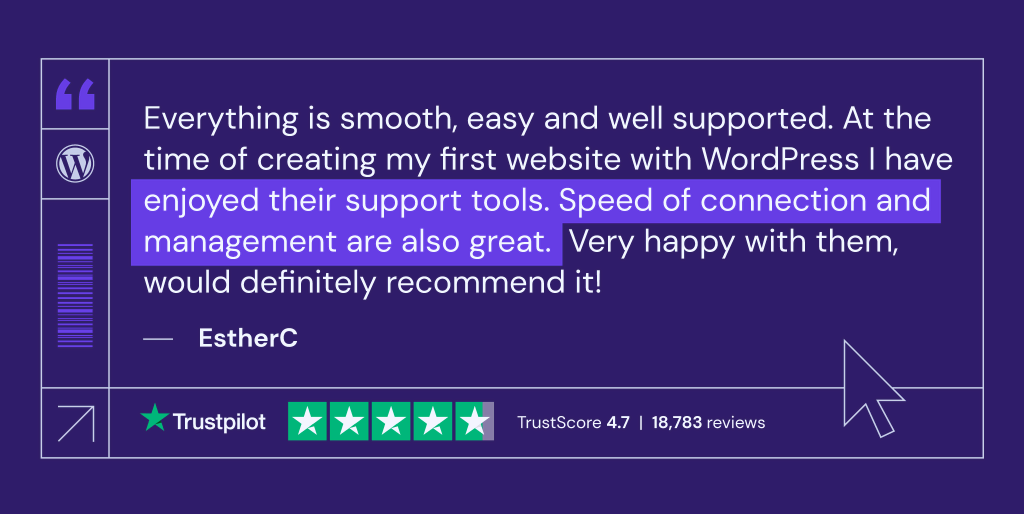 Our WordPress plans, for example, are specifically optimized for this content management system and let you complete the installation in just a few clicks.
Here's how to use Hostinger's Auto Installer:
Log in to your web hosting account and click Websites on the main menu.
Click on the Manage button near the domain name of your new WordPress-powered website.
On your hPanel Dashboard, locate the Auto Installer button under the Website section.
Under Auto Installer, choose WordPress and click the Select button.
Fill out the Install WordPress form:
Create a WordPress Website Title.
The Administrator Username, Password, and Email are for the WordPress login. They do not need to be the same as the web hosting login information. Make sure to choose a strong password to prevent security breaches.
Choose your preferred Language and Application version.
Select the Always update to latest available version option for automatic updates.


After filling out all the necessary information, hit the Install button.


Hostinger will show Installed Applications. Click on the three dots next to your WordPress URL. Select Manage to go to My WordPress Dashboard.


On the WordPress Dashboard, click the Edit Website button to access WordPress Administration Dashboard.
Another way to access the WordPress Admin Dashboard is by clicking the Overview button near WordPress on hPanel.
Important! If you don't notice any changes on your WordPress site after following these instructions, clear your browser cache.


Selecting the Ideal Free WordPress Theme for Your New Blog (Top 3 Choices)
When you're new to the world of blogging, I usually don't recommend rushing to buy a paid WordPress theme right from the start. It's a good idea to consider investing in a premium theme once you have some traffic and can justify the cost. But for now, going for a complex blog theme might distract you from your primary goal of attracting readers to your new blog.


WordPress offers a plethora of free blogging themes to choose from. So, begin by exploring the options available in the "Appearance" > "Themes" > "Add New Theme" > "Popular" section without spending too much time on this decision right now. Remember that you can always revisit this choice and make changes later on.


For starters, I recommend three excellent free WordPress themes: Kadence WP, Elementor for WordPress, or Astra. These themes are all 100% free, exceptionally fast, and come with the option to upgrade to their premium versions at affordable prices in the future.


I particularly favor these three speedy WordPress themes because they offer clean, simple designs that will help you get your blog up and running without the need for an immediate investment in a paid theme. As your blog grows, you can explore other WordPress themes or consider upgrading to their premium versions for additional features.


These themes will provide you with a solid foundation as you embark on your blogging journey. Later on, you can explore a wider range of WordPress themes or enhance these ones by opting for their premium versions to unlock even more features.



What if you want to choose a different WordPress theme or switch to one later on?
If you decide to explore different WordPress themes for your blog, consider using these criteria to help you make informed choices:


Ease of Use: Opt for themes that are user-friendly. Avoid overly complicated themes that sacrifice usability.


Responsiveness: Ensure that the theme you choose is responsive. Responsive themes adapt to different screen sizes, such as laptops, smartphones, and tablets. Since many readers use mobile devices, having a mobile-friendly theme is crucial. To check if a theme is mobile-friendly, you can paste the theme's demo page URL into Google's Mobile-Friendly Test page.


Plugin Compatibility: Your blog's functionality often relies on plugins. Make sure the theme you select supports popular WordPress plugins. This compatibility will allow you to add useful features to your blog, such as custom widgets or SEO tools.


SEO-Friendly: SEO, or search engine optimization, determines how easily search engines like Google can find and index your content. Some themes may have code that hinders search engine visibility. Choose themes optimized for SEO to improve your blog's discoverability.


Support: Technical issues can arise, and having access to support is invaluable. While some free themes come with limited or no support, it's essential to consider this aspect when selecting a theme. Check if the theme developer offers reliable support.


Ratings and Reviews: Research themes with a solid track record and positive reviews. Themes with high ratings are more likely to provide a good user experience.


By applying these criteria, you can make an informed decision when choosing a WordPress theme for your blog. Whether you're starting fresh or considering a switch in the future, these guidelines will help you select a theme that suits your needs and enhances your blog's performance.



Why Blog Design Matters Significantly When Launching Your Blog
Even if design isn't your top priority, you should know that your readers will significantly alter their behavior based on your blog's layout and appearance. In a study conducted by Google and the University of Basel in 2012, it was discovered that users form judgments about a website's aesthetics and perceived functionality within a fraction of a second, usually between 1/20th to 1/50th of a second. Moreover, thanks to a cognitive bias known as the Halo Effect, these judgments tend to extend to all aspects of your blog.


"In the blink of an eye, readers decide whether your blog is trustworthy or not."
Effective blog design fosters trust. It communicates to your audience that you care enough about your blog to present it in an appealing manner. This doesn't imply that you need extravagant animations or a multitude of fonts and colors. In reality, the best designs are often simple, clear, and easy to read.


Once you've settled on the ideal theme for your WordPress blog, the next step is to venture into the realm of WordPress plugins. These plugins allow you to unlock additional customizations for your blog's design and functionality. This preparation is essential if you aspire to transform your blog into a legitimate business over time.




Ten Must-Have WordPress Plugins for Your New Blog



WordPress plugins are instrumental in shaping the functionality and performance of your blog. Integrating essential plugins promptly is a pivotal step that not only caters to your audience but also enhances your blog's visibility in search engine results.
As you embark on your WordPress blogging journey, it's imperative to consider these essential plugins to ensure your blog's optimal performance and user experience.
So, what exactly is a WordPress plugin, and why are they important?
In essence, a WordPress plugin is akin to a compact software module or "add-on" that bolsters your blog's capabilities by furnishing additional features and functionalities. These plugins empower you to expand your blog's offerings, encompassing diverse elements such as email subscriber management, SEO optimization, website analytics tracking, image optimization, page load speed enhancement, and more.
However, the plethora of available WordPress plugins and blogging tools can be bewildering. To streamline the selection process, here are the must-have WordPress plugins that you should install as you kickstart your blogging journey:
When it comes to optimizing your WordPress blog for performance, user experience, and visibility in search engine results, installing the right plugins can make all the difference. Here are ten essential WordPress plugins that should be at the top of your list as you embark on your blogging journey:


UpdraftPlus: Murphy's Law can apply to your blog as well, so it's wise to have a reliable backup system in place. UpdraftPlus is a top-tier backup plugin that ensures your hard work is consistently saved. With its regular backup feature, your content remains protected, even when unforeseen issues arise.


Site Kit by Google (Analytics Dashboard for WordPress): This free plugin, developed by Google, offers valuable insights directly within your WordPress dashboard. By connecting it to your Google Analytics 4 and Search Console accounts, you gain access to essential data about your site's performance. You can monitor visitor traffic, analyze visitor behavior, and identify your most popular blog posts. It's a powerful tool for understanding your audience and optimizing your content.


Rank Math SEO: To boost the discoverability of your content, Rank Math SEO is a must-have plugin. Rank Math is a feature-rich SEO (Search Engine Optimization) plugin designed specifically for WordPress websites. Here are ten key details about the Rank Math plugin:


WPForms: Ensuring that your readers can easily reach out to you is crucial. WPForms simplifies the process of adding contact forms to your blog. Its user-friendly interface allows you to drag and drop forms onto any page, facilitating seamless communication with your audience. Additionally, it provides a convenient channel for potential collaborators to get in touch.


WP Rocket: Speed is crucial for both search engine rankings and user experience. WP Rocket is a comprehensive plugin that enhances your blog's performance. It accomplishes this by caching your pages, optimizing file sizes, and implementing various techniques to improve loading times. A faster website not only ranks higher on Google but also provides your readers with a smoother browsing experience.


Lightweight Accordion: If you appreciate the collapsible (accordion-style) content boxes used in this guide and the FAQ section below, you'll find the "Lightweight Accordion" plugin valuable. It enables you to effortlessly incorporate collapsible FAQ box functionality into your WordPress blog, enhancing user experience with just a few clicks.


Insert Headers and Footers: Occasionally, you may need to add code snippets to your blog's header or footer to customize your theme. This task, while not as intimidating as it sounds, can lead to issues if handled directly in your theme's code. The "Insert Headers and Footers" plugin simplifies this process by allowing you to insert small code snippets easily into specific locations on your blog.


MightyShare: Enhance your WordPress blog's social sharing capabilities with the "MightyShare" plugin. This free tool automates the generation of eye-catching social share images, offering various templates, fonts, color choices, and extensive customization options. Instead of using the default, mundane social share images, MightyShare adds visual appeal and supports all post types, including monthly additions of new templates.


Bunny CDN: When it comes to speed optimization, Bunny.net offers an excellent WordPress plugin-based Content Delivery Network (CDN) solution. This plugin can dramatically enhance the loading speed of images and other static elements on your blog. It's a highly recommended option, especially when used in conjunction with WP Rocket.


Antispam Bee: Safeguard your blog against spam comments and trackbacks effectively with the "Antispam Bee" plugin. Regarded as one of the best free anti-spam solutions for WordPress, this plugin offers a robust toolset for combating spam. It prioritizes data protection and privacy, ensuring you can effectively combat spam without cost.


Enough of How to start a blog. Now is the time to come up with your first blog.
Step 4: Get Ready To Write Your First Blog
How to Come up with Clever Blog Post Ideas? The best one is to use chatGPT. Just write in the prompt your domain name and the niche you want to write the posts about. Ask it to give a list of 30 topics or Titles around your niche. It will come up with 30 topics/ideas and then you are ready to go.


Or

Generate blog topics through brainstorming and listing: Initiate the process by jotting down a wide range of ideas or relevant keywords. The goal is to generate content that caters to your target audience's interests and inquiries. Identify the questions they are posing and areas where your expertise can provide valuable insights.


Utilize a keyword research tool for additional ideas: Enhance your list of topics by employing a free keyword research tool such as Ahrefs, Twinword Ideas, or Moz, as they are among the best free keyword tools available. These tools will unveil related terms and specific blog topic suggestions based on your initial ideas, along with information on the search traffic associated with those terms, indicating their relevance to your audience.


Group similar concepts together: Review your list of terms and begin refining it. Identify any duplicate ideas that can be consolidated into a single topic.
Organize your ideas within a spreadsheet and establish priorities: Transition to your editorial calendar spreadsheet and include essential details such as keywords, estimated search volume, difficulty, and opportunity for each topic. Evaluate these factors and assign a priority rating to each topic, typically on a scale of 1-5 or as High-Medium-Low.


Create content that fulfills key criteria: Focus on your top-priority topics and set deadlines for content creation. Seek out blog topics that meet three crucial criteria: alignment with your niche, relevance to your readers' genuine needs, and potential to attract organic search traffic to your blog. Develop a structured blog post outline to solidify your key points and kickstart the writing process.


If you still require more ideas, consider exploring the content covered by other bloggers within your niche, especially their successful posts.


Now let's jump onto the Design and Layout part of How to start a blog journey.
Optimize Your Blog Post Design and Layout
When it comes to what constitutes a "good" design, it's subjective and influenced by your perception of what will resonate with your (future) readers. However, from my own experience as a blogger, I've learned that design plays a significant role.


Here are five rules for structuring the perfect blog post layout, with quick tips:
Prioritize Readability: Effective design isn't about using an abundance of colors, multiple fonts, or excessive images. It's about enhancing the reader's experience. Negative space, which is the empty or blank space around design elements, is crucial for legibility and readability. Avoid cluttering your design. Look for ways to create a smooth flow, and a good WordPress theme can assist with this.


Additionally, ensure your font size is sufficiently large (aim for 16pt or higher). Pay attention to line length; ideally, sentences should be between 50–85 characters to keep readers engaged. For more details, refer to my guides on adjusting font size and font color on your blog. You can also explore my tutorial on determining the ideal blog post length.


Include a Relevant Featured Image: Our brains remember information through both words and visuals. By combining these elements at the beginning of your post with a compelling image, you increase the chances of readers recalling your blog.
Pro tip: You don't need custom-designed images right away. Starting with a relevant image at the top of your blog post can establish relevance without the need for extensive graphic design (unless that's your preference).


Use SubHeaders Effectively: Presenting readers with a massive wall of text can be overwhelming and may drive them away. To enhance readability, consider adding a heading or sub-header every 300-500 words. Including images near these headings can further break up the text flow, as I've done in this guide.


Emphasize Key Content with Styling: Effective blog design guides readers through your article. An easy way to achieve this is by using bold or italics to highlight essential sections, as I've done in this guide. However, use this styling sparingly, as not everything in your article is equally important.


Provide Clear Identity: To establish a lasting connection and make readers feel comfortable, consider including a brief bio or blurb about yourself in the sidebar or footer of your blog. This helps readers understand who you are.



These five design principles have stood the test of time and will greatly assist you in creating an appealing and reader-friendly blog layout. From the moment you start learning how to begin a blog, these principles will guide you.
Ready to Publish Your First Blog Post Once you've crafted your inaugural blog post (ideally surpassing the 1,000-word

mark), you're nearly prepared for publication!
How To Start A Blog: Content Strategy



A blog content strategy is a structured plan that outlines how you intend to systematically grow your blog and attract new readers, particularly from relevant sources. If you have a clear understanding of your blog's niche, purpose, target audience, and the value you aim to provide, creating a blog content strategy becomes a straightforward process of addressing your readers' most pressing needs.


Here's how to create a basic blog content strategy:



Define Your Blog Goals:

Determine the purpose of your blog.
Set specific goals for your blog content.
Understand what you want to achieve with your blog, such as increasing readership, generating revenue, or establishing authority.



Understand Your Blog Readers:

Identify your target audience and their characteristics (demographics).
Explore the interests, values, attitudes, and beliefs of your audience (psychographics).
Create an audience persona, which is a fictional representation of your ideal reader.



Choose Your Blog's Content Pillars:

Select key categories or content pillars that align with your blog's niche and audience.
Content pillars serve as the foundational topics that your blog will cover consistently.
For instance, if your blog focuses on personal finance, your pillars could include personal finance tips, expert interviews, industry news, and debt management.



Plan Your Initial Content:

Map out the content you intend to create shortly after launching your blog.
Prepare a content pipeline for the upcoming weeks or months.
Ensure your initial content addresses various aspects of your chosen content pillars.
Consider creating evergreen content that remains relevant over time.


It's important to note that when you start a blog, it's advisable to begin small and commit to consistent growth over the weeks and months ahead. This approach allows you to gradually build your blog's presence and adapt your content strategy based on audience feedback and performance.


As you progress in this guide, you'll learn about promoting your content, driving traffic, and eventually monetizing your blog after publishing your first blog post.

Best Ways To Promote Your Blog to Attract Readers and Traffic
To achieve a successful blog, it's essential to invest more time in promoting your content than in creating it. Here are effective ways to share your blog posts and reach a broader audience. For more in-depth strategies, you can refer to my guide on how to drive traffic to your website, where I delve deeper into tactics that have helped me grow my blog to millions of yearly readers.


Utilizing Social Media for Blog Promotion One of the primary platforms for finding readers is social media. Popular networks such as Facebook, Twitter, YouTube, Pinterest, LinkedIn, Reddit, Instagram, Snapchat, and TikTok offer vast opportunities. Choose the platform that aligns best with your niche and the interests of your target audience. Keep in mind that it's unnecessary to promote your blog posts on every social media platform.


Tips for selecting the right social networks for promoting your blog:



Each social network naturally attracts specific niches and types of readers.
Tailor your content to suit the preferences of each platform.
Here's a quick overview of what works well on different social platforms:

Facebook: Videos and curated content.
Instagram: High-resolution photos, quotes, and Stories.
Twitter: News, blog posts, and GIFs.
YouTube: Video content (the second-largest search engine globally).
LinkedIn: Professional content and career news.
Pinterest: Infographics, step-by-step photo guides, and visual content.
Reddit: Engage in discussions related to your niche.
Focus on sharing your blog content on the social networks where your target audience spends the most time. By doing so, you'll maximize your reach and engagement.


Leveraging YouTube to Expand Your Blog Audience YouTube, as the second-largest search engine globally (owned by Google), presents a powerful platform for promoting your blog and growing your audience. From the moment you start your blog, consider a strategy for publishing videos on YouTube to gain subscribers and direct viewers to your blog.


By incorporating these promotional tactics, you are not only learning how to initiate a blog but also laying the foundation for a lifetime of opportunities with the audience you attract to your blog and social channels.



How to Start A Blog : Promotion Strategies
Top 4 Strategies to Promote Your Blog
Interview Influential Figures in Your Niche: Conducting interviews with prominent figures in your niche is an excellent way to learn from experts while building valuable relationships. These interviews can serve as engaging blog posts or even form the foundation for a podcast, as I did with The Side Hustle Project. Check out my guide on blogging vs. podcasting and my recommendations for affordable podcast microphones to help you get started.


Network with Fellow Bloggers and Acknowledge Their Work: In the early stages, it's crucial to get noticed by other bloggers in your niche. A highly effective method is to reference their content within your own blog posts. This often involves linking to relevant blog articles and reaching out to the bloggers, saying something like, "Hey! I mentioned your work in my latest article. If you find it share-worthy, I'd greatly appreciate it. However, if not, I'm still happy to promote your content." This approach can yield significant results swiftly.


Share Your Blogging Endeavors with Your Network: Sometimes, the simplest actions can generate substantial momentum. Informing the people around you about your blogging venture can lead to a dedicated readership. While your initial readers might be friends and acquaintances, it's essential to respond to every comment and engage with other blogs in your niche.


Learn from Successful Bloggers: If you're not ready to establish connections with other bloggers in your field, you can still gain valuable insights from their experiences. Explore my extensive compilation of the best blogging advice, and study the strategies employed by successful bloggers. Analyze what works for them and adapt those tactics to suit your unique approach.


Keep in mind that the primary obstacle to growing your blog is often your own hesitation. Achieving blog growth requires ingenuity and a willingness to experiment, but the rewards are well worth the effort.